Obama meet the press dec 2012
Dec. 7: President-elect Barack Obama - Meet the Press | NBC News
December President Obama, Brokaw, Meacham, Kearns DAVID GREGORY: Mister President, welcome back to MEET THE PRESS. Barack Obama Meet the Press I know, it's Why do we Meet the Press in Once in May, once in July, and once in December. How President Obama's campaign used big data to rally individual voters.
I think, in fairness, you have seen some progress made incrementally in many of these companies. You know, they have been building better cars now than they were 10 or 15 or 20 years ago. They are making some investments in the kind of green technologies and, and the new batteries that would allow us to create plug-in hybrids.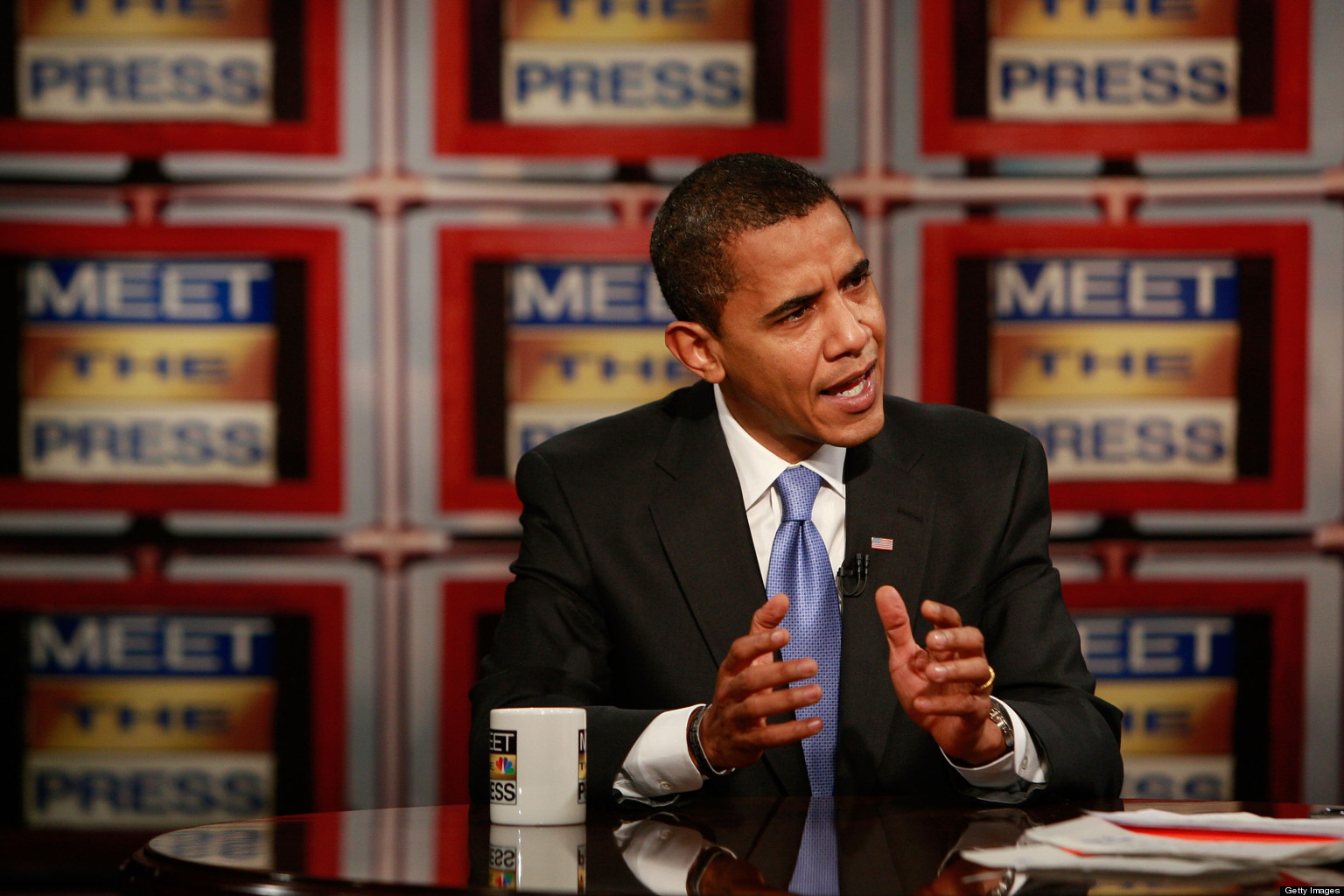 What we haven't seen is a sense of urgency and the willingness to make tough decisions. And what we still see are executive compensation packages for the auto industry that are out of line compared to their competitors, their Japanese competitors who are doing a lot better.
Now, it's not unique to the auto industry. We have seen that across the board. Certainly, we saw it on Wall Street. Figure out ways in which workers maybe have to take a haircut, but they can still keep their jobs, they can still keep their health care and they can still stay in their homes. That kind of notion of shared benefits and burdens is something that I think has been lost for too long, and it's something that I'd like to see restored.
Let's talk for a moment about consumer responsibility when it comes to the auto industry. As soon as gas prices began to drop, consumers moved back to the larger cars once again, to SUVs and the big gas consumers. We're not going to have gasoline that you can just fill up your tank for 20 bucks anymore. Well, keep, keep in mind what's happening in--to families all across America. Yes, gas prices have gone down.
Barack Obama On Meet the Press Sept. 7, ? - You Decide Politics
But, in the meantime, maybe somebody in the family's lost their job. In the meantime, their housing values have plummeted. In the meantime, maybe their hours have been cut back. Or if they're a small-business owner, their sales have gone down 50, 60, 70 percent. So putting additional burdens on American families right now, I think, is a mistake. What we have to do long term is make sure that we have an energy strategy that focuses on fuel-efficient cars, that focuses on providing incentives for fuel-efficient cars.
Same applies to buildings. We have a enormously inefficient building stock, and we can save huge amounts of energy costs and reduce our dependence on foreign oil by simple things like weatherization and changing the lighting in, in major buildings. That's going to be part of our economic recovery plan. It actually allows us to spend some money, put some people to work right away, but it also creates a long-term, sustainable energy future. And I think making some of those investments in ensuring that we change our auto fleet over the next several years, that's going to be important as well.
The other big financial storm that continues to build out there, of course, are mortgages. You said recently that is an area of particular concern to you. The chairman of the Federal Reserve, Bernanke, said recently that something that--needs to be done urgently. During the course of the campaign, you suggested a three-month moratorium. Is that still part of the policy that you would like to have begun when you become president of the United States?
And what else needs to be done to do something about mortgages? Well, I, I'm having my team examine all the options that are out there. I'm disappointed that we haven't seen quicker movement on this issue by the administration. And we have said publicly and privately that we want to see a package that helps homeowners not just because it's good for that particular homeowner, it's good for the community. When you have foreclosures, property values decline and you get a downward spiral all across America.
It's also good for the financial system because keep in mind how this financial system became so precarious in the first place. You, you had a huge amount of debt, a huge amount of other people's money that was being lent, and speculation was taking place on--based on these home mortgages.
And if we can strengthen those assets, then that will strengthen the financial system as a whole. So I think a moratorium on foreclosures remains an important tool, an important option. I think we also should be working to figure out how we can get banks and homeowners to renegotiate the terms of their mortgages so that they are sustainable. The vast majority of people who are at threat of foreclosure are still making monthly payments, they want to stay in their homes, they want to stay in their communities, but the strains are enormous.
And if we can relieve some of that stress, long term it's going to be better for the banks, it's going to be certainly better for the community, it's going to be better for our economy as a whole.
This is going to be a top priority of my administration. Have you personally conveyed your disappointment to the administration or had your economic advisers get in touch with Hank Paulson and say, "Why aren't you doing more about mortgages? We, we have specifically said that, moving forward, we have to have a housing component to any actions that we take. If we are only dealing with Wall Street and we're not dealing with Main Street, then we're only handling one-half of the problem.
And finally, what about those homeowners out there who are struggling to do the responsible thing, to pay their mortgages? And now they look across the street and the neighbor may be getting bailed out.
So they feel they're the victim of a double whammy. They're paying their taxes to bail out the guy across the street and struggling to pay their mortgages.
Why wouldn't they just take a walk on their mortgage and say, "I want in on that"? Well, look, that, that's one of the tricky things that we've got to figure out how to structure. We don't want what you just described, a moral hazard problem where you have incentive to act irresponsibly.
But, you know, if my neighbor's house is on fire, even if they were smoking in the bedroom or leaving the stove on, right now my main incentive is to put out that fire so that it doesn't spread to my house. And I think most people recognize that even if there were some poor decisions made by home buyers, that right now our biggest incentive is to make sure that the housing market is strengthened.
I do think that we have to put in place a set of rules of the road, some financial regulations that prevent the kind of speculation and leveraging, that we saw, in the future. Advertise And so, as part of our economic recovery package, what you will see coming out of my administration right at the center is a strong set of new financial regulations in which banks, ratings agencies, mortgage brokers, a whole bunch of folks start having to be much more accountable and behave much more responsibly because we can't put ourselves--we, we can't create the kind of systemic risks that we're creating right now, particularly because everything is so interdependent.
We've got to have transparency, openness, fair dealing in our financial markets. And that's an area where I think, over the last eight years, we've fallen short. President-elect, we're going to take a break. When we come back, we're going to talk about taxes, the fallout from Mumbai, obviously, Iraq and Afghanistan.
More of our exclusive interview yesterday in Chicago with President-elect Barack Obama after this brief station break. We're back with President-elect Obama. We want to talk about taxes. That was a central piece of your campaign.
Here's what you had to say. We need to roll back the Bush-McCain tax cuts and invest in things like health care that are really important. Instead of giving tax breaks to the wealthy, who don't need them and weren't even asking for them, we should be putting a middle class tax cut into the pockets of working families.
Have the economic conditions changed what you hoped to do about taxes? Is that your plan? Well, understand what my original tax plan was. It was a net tax cut. Ninety-five percent of working families would get tax relief. To help pay for that, people like you and me, Tom, who make more than a quarter million dollars a year, would play--pay slightly more.
We'd essentially go back to the tax rates that existed back in the s. My economic team right now is examining do we repeal that through legislation? Do we let it lapse so that when the Bush tax cuts expire they're not renewed when it comes to wealthiest Americans? And we don't yet know what the best approach is going to be, but the overall thrust is going to be that 95 percent of working families are going to get a tax cut, and the wealthiest Americans, who disproportionately benefited not only from tax cuts from the Bush administration but also disproportionately benefited when it comes to corporate profits and where the gains and productivity were going, they are going to give up a little bit more.
And it turns out that But right away or ? Well, as I said, my economic team's taking a look at this right now. But, but I think the important principle--because sometimes when we start talking about taxes and I say I want a more balanced tax code, people think, well, you know, that's class warfare. It, it turns out that our economy grows best when the benefits of the economy are most widely spread.
And that has been true historically. And, you know, the real aberration has been over the last 10, 15 years in which you've seen a huge shift in terms of resources to the wealthiest and the vast majority of Americans taking home less and less.
Their incomes, their wages have flatlined at a time that costs of everything have gone up, and we've actually become a more productive society.
So what we want to do is actually go back to what has been the traditional pattern. We have a broad-based middle class, economic growth from the bottom up. That, I think, will be the recipe for everybody doing better over the long term. Your vice president, Joe Biden, said during the course of this campaign it would be patriotic for the wealthy to pay more in taxes.
In this economy, does he still believe that? Well, I--you know, I think what Joe meant is exactly what I described, which is that if, if our entire economic policy is premised on the notion that greed is good and "What's in it for me," it turns out that that's not good for anybody.
It's not good for the wealthy, it's not good for the poor, and it's not good for the vast majority in the middle. If we've learned anything from this current financial crisis--think about how this evolved. You had a situation in which you started seeing home foreclosures rise. You had a middle class that was vulnerable and couldn't make payments. Suddenly, all the borrowing that had been--and, and, and all the speculation that had been premised on those folks doing OK, that starts evaporating.
Next thing you know, you've got Lehman Brothers going under. People used to think that, well, there, there's no connection between those two things. It turns out that when we all do well, then the economy, as a whole, is going to benefit. I want to move now to international affairs, the war on terror.
Obviously, we have all been stunned by what happened in India at Mumbai.
It is still playing out in that part of the world. The efficiency and scale of that process put the Democrats well ahead when it came to profiling voters. Within the campaign, however, the Obama data operations were understood to have shortcomings. Obama would run his final race not as an insurgent against a party establishment, but as the establishment itself. Their demands, not the offerings of consultants and vendors, would shape the marketplace.
The committee installed a Siemens Enterprise System phone-dialing unit that could put out 1. The chastening losses they had experienced in Washington separated them from those who had known only the ecstasies of At the same time, they knew they would need to succeed at registering and mobilizing new voters, especially in some of the fastest-growing demographic categories, to make up for any voters who did defect.
But within the campaign, the goal was literal. They would reassemble the coalition, one by one, through personal contacts. This reflected a principled imperative to challenge the political establishment with an empirical approach to electioneering, and it was greatly influenced by David Plouffe, the campaign manager, who loved metrics, spreadsheets, and performance reports.
Plouffe wanted to know: How much money did that ad campaign bring in? But for all its reliance on data, the Obama campaign had remained insulated from the most important methodological innovation in 21st-century politics. InYale professors Don Green and Alan Gerber conducted the first randomized controlled trial in modern political science, assigning New Haven voters to receive nonpartisan election reminders by mail, phone, or in-person visit from a canvasser and measuring which group saw the greatest increase in turnout.
The subsequent wave of field experiments by Green, Gerber, and their followers focused on mobilization, testing competing modes of contact and get-out-the-vote language to see which were most successful. The first Obama campaign used the findings of such tests to tweak call scripts and canvassing protocols, but it never fully embraced the experimental revolution itself.
The breakthrough was that registration no longer had to be approached passively; organizers did not have to simply wait for the unenrolled to emerge from anonymity, sign a form, and, they hoped, vote. New techniques made it possible to intelligently profile nonvoters: Applying microtargeting models identified which nonregistrants were most likely to be Democrats and which ones Republicans.
The Obama campaign embedded social scientists from the Analyst Institute among its staff. Party officials knew that adding new Democratic voters to the registration rolls was a crucial element in their strategy for It wanted to take on the most vexing problem in politics: The expansion of individual-level data had made possible the kind of testing that could help do that.
Experimenters had typically calculated the average effect of their interventions across the entire population. When the group sent direct mail in favor of Democratic gubernatorial candidates, it barely budged those whose scores placed them in the middle of the partisan spectrum; it had a far greater impact upon those who had been profiled as soft or nonideological Republicans.
That test, and others that followed, demonstrated the limitations of traditional targeting.
'12 Meet the Press transcripts, resources, video
Such techniques rested on a series of long-standing assumptions—for instance, that middle-of-the-roaders were the most persuadable and that infrequent voters were the likeliest to be captured in a get-out-the-vote drive. But the experiments introduced new uncertainty. People who were identified as having a 50 percent likelihood of voting for a Democrat might in fact be torn between the two parties, or they might look like centrists only because no data attached to their records pushed a partisan prediction in one direction or another.
The traditional way of doing this had been to audition themes and language in focus groups and then test the winning material in polls to see which categories of voters responded positively to each approach.
Any insights were distorted by the artificial settings and by the tiny samples of demographic subgroups in traditional polls. And people have been doing that for decades! Experimenters would randomly assign voters to receive varied sequences of direct mail—four pieces on the same policy theme, each making a slightly different case for Obama—and then use ongoing survey calls to isolate the attributes of those whose opinions changed as a result.
The experiment revealed how much voter response differed by age, especially among women. Older women thought more highly of the policies when they received reminders about preventive care; younger women liked them more when they were told about contraceptive coverage and new rules that prohibited insurance companies from charging women more. The results were surprising. Those scores suggested that they probably shared Republican attitudes; but here was one thing that could pull them to Obama.
Traditionally, campaigns have restricted their persuasion efforts to channels like mass media or direct mail, where they can control presentation, language, and targeting. Sending volunteers to persuade voters would mean forcing them to interact with opponents, or with voters who were undecided because they were alienated from politics on delicate issues like abortion.
They began sending trained volunteers to knock on doors or make phone calls with the objective of changing minds. That dramatic shift in the culture of electioneering was felt on the streets, but it was possible only because of advances in analytics.
Likely Obama supporters would get regular reminders from their local field organizers, asking them to return their ballots, and, once they had, a message thanking them and proposing other ways to be involved in the campaign. The local organizer would receive daily lists of the voters on his or her turf who had outstanding ballots so that the campaign could follow up with personal contact by phone or at the doorstep.
Wagner, however, was turning his attention beyond the field. Throughout the primaries, Romney had appeared to be the only Republican running a 21st-century campaign, methodically banking early votes in states like Florida and Ohio before his disorganized opponents could establish operations there. Such techniques had offered George W. And, good Sunday morning. Time is nearly up before we go over the so-called fiscal cliff.
Senate leaders spent the weekend working on a last-ditch deal and the House comes back today for a rare Sunday night session. Yesterday afternoon, in an exclusive interview, President Obama sat down with me in the blue room of the White House to discuss the way forward and his priorities for his second term. It's great to be here. So the obvious question: Are we going over the fiscal cliff?
Well, I think we're going to find out in the next 48 hours what Congress decides to do, but I think it's important for the American people to understand exactly what this fiscal cliff is, because it-- it's actually not that complicated. The tax cuts that were introduced in,those were extended and they're all about to expire at the end of the year. So on midnight December 31st, if Congress doesn't act then everybody's taxes go up.
And for the average family that could mean a loss of 2, dollars in income. For the entire economy that means consumers have a lot less money to make purchases, which means businesses are going to have a lot less customers, which means that they're less likely to hire and the whole economy could slow down at a time when the economy is actually starting to pick up and we're seeing signs of recovery in housing and in employment numbers improving.
And, so what Congress needs to do, first and fore-- foremost, is to prevent taxes from going up for the vast majority of Americans. And this was a major topic of discussion throughout the campaign. What I said was is that we should keep taxes where they are for 98 percent of Americans, 97 percent of small businesses. But if we're serious about deficit reduction we should make sure that the wealthier are paying a little bit more and combine that with spending cuts to reduce our deficit and put our economy on a long-term trajectory of growth.
You know, we have been talking to the Republicans ever since the election was over. They have had trouble saying yes to a number of repeated offers. Yesterday, I had another meeting with the leadership and I suggested to them if they can't do a comprehensive package of-- of smart deficit reductions, let's at minimum make sure that people's taxes don't go up and that two million people don't lose their unemployment insurance. And, you know, I was modestly optimistic yesterday, but we don't yet see an agreement.
And now the pressure's on Congress to produce. If they don't, what I've said is that in the Senate we should go ahead and introduce legislation that would make sure middle class taxes stay where they are and there should be an up or down vote. Everybody should have a right to vote on that. You know, if-- if Republicans don't like it, they can vote no. But I actually think that there's a majority support for making sure that middle class families are held harmless. If you look at projections ofpeople generally felt that the economy would continue to grow, unemployment would continue to tick down, housing would continue to improve.
But what's been holding us back is the dysfunction here in Washington. And if, you know, people start seeing that on January 1st this problem still hasn't been solved, that we haven't seen the kind of deficit reduction that we could have had had the Republicans been willing to take the deal that I gave them, if they say that people's taxes have gone up, which means consumer spending is going to be depressed, then obviously that's going to have an adverse reaction in the markets.
What about automatic spending cuts? Those take effect January 1st as well. Do they have to be part of this deal? You've got half of those cuts in defense alone.
Well, the-- the other part of the fiscal cliff is Congress agreed that they would cut an additional 1. They put a committee together to try to come up with those numbers. They didn't figure out how to do it. And so what we now have is a situation where these automatic spending cuts go into place.
President Obama Holds a Press Conference
Now if-- if we have raised some revenue by the wealthy paying a little bit more, that would be sufficient to turn off what's called the sequester--these automatic spending cuts, and that also would have a better outcome for our economy in long-term. But, you know, so far, at least, Congress has not been able to get this stuff done.
Not because Democrats in Congress don't want to go ahead and cooperate, but because I think it's been very hard for Speaker Boehner and Republican Leader McConnell to accept the fact that taxes on the wealthiest Americans should go up a little bit-- as part of an overall deficit reduction package. Well, you talk about dysfunction in Washington.
You signed this legislation setting up the fiscal cliff 17 months ago. How accountable are you for the fact that Washington can't get anything done and that we are at this deadline again? Well, I-- I have to tell you, David, if-- if you look at my track record over the last two years, I cut spending by over a trillion dollars in I campaigned on the promise of being willing to reduce the deficit in a serious way, in a balanced approach of spending cuts and tax increases on the wealthy while keeping middle class taxes low.
Advertise I put forward a very specific proposal to do that. I negotiated with Speaker Boehner in good faith and moved more than halfway in order to achieve a grand bargain. I offered over a trillion dollars in additional spending cuts so that we would have two dollars of spending cuts for every one dollar of increased revenue.
I think anybody objectively who's looked at this would say that, you know, we have put forward not only a sensible deal but one that has the support of the majority of the American people, including close to half of Republicans. But when they say You've had a tough go with Congress. David, you know, at a certain point if folks can't say yes to good offers, then I also have an obligation to the American people to make sure that the entire burden of deficit reduction doesn't fall on, you know, seniors who are relying on Medicare.
I also have an obligation to make sure that families who rely on Medicaid to take care of a disabled child aren't carrying this burden entirely. I also have an obligation to middle class families to make sure that they're not paying higher taxes when millionaires and billionaires are not having to pay higher taxes. There is a basic fairness that is at stake in this whole thing that the American people understand and they listened to an entire year's debate about it.
They made a clear decision about the-- the approach they prefer, which is a balanced, responsible package. They rejected the notion that the economy grows best from the top down. They believe that the economy grows best from the middle class out. And at a certain point, you know, it is very important for Republicans in Congress to be willing to say, "We understand we're not going to get percent.
We are willing to compromise in a serious way in order to solve problems," as opposed to be worrying about the next election. You said that Republicans have a hard time saying yes. What is it about you, Mister President, that you think is so hard to say yes to? You know, that's something you're probably going to have to ask them, because, you know, David, you-- you follow this stuff pretty carefully. I mean I offered to make some significant changes to our entitlement programs in order to reduce the deficit.
I offered not only a trillion dollars in-- over a trillion dollars in spending cuts over the next 10 years, but these changes would result in even more savings in the next 10 years.
And would solve our deficit problem for a decade. They say that their biggest priority is making sure that we deal with the deficit in a serious way, but the way they're behaving is that their only priority is making sure that tax breaks for the wealthiest Americans are protected. That seems to be their only overriding, unifying theme.
And-- and at some point I think what's going to be important is that they listen to the American people. Now, you know, the-- I think that over the next 48 hours, my hope is that people recognize that, regardless of partisan differences, our top priority has to be to make sure that taxes on middle class families do not go up that would hurt our economy badly.
We can get that done. Democrats and Republicans both say they don't want taxes to go up on middle class families. That's something we all agree on. If we can get that done that takes a big bite out of the fiscal cliff. It avoids the worst outcomes. And we're then going to have some tough negotiations in terms of how we continue to reduce the deficit, grow the economy and create jobs.
If this fight comes back-- and I want to ask you specifically about entitlements: Medicare and Social Security. Are you prepared in the first year of your second term to significantly reform those two programs? Are you prepared to do that in your first year of the second term? What I've said is I am prepared to do everything I can to make sure that Medicare and Social Security are there, not just for this generation but for future generations.
You've got to talk tough to seniors Highly unpopular among Democrats. Not something supported by AARP. But in pursuit of strengthening Social Security for the long-term I'm willing to make those decisions. What I'm not willing to do is to have the entire burden of deficit reduction rest on the shoulders of seniors, making students pay higher student loan rates, ruining our capacity to invest in things like basic research that help our economy grow.
Those are the things that I'm not willing to do. Would you commit to that first year of your second term getting significant reform done? You are not only going to cut your way to prosperity.
One of the fallacies I think that has been promoted is this notion that deficit reduction is only a matter of cutting programs that are really important to seniors, students and so forth. That has to be part of the mix, but what I ran on and what the American people elected me to do was to put forward a balanced approach. To make sure that there's shared sacrifice. That everybody is doing a little bit more. And it is very difficult for me to say to a senior citizen or a student or a mom with a disabled kid, "You are going to have to do with less but we're not going to ask millionaires and billionaires to do more.
Can I ask you about That's not an approach that the American people think is right.
Remarks by President Obama and Prime Minister al-Maliki of Iraq in a Joint Press Conference
And, by the way, historically that's not how we grow an economy. We grow an economy when folks in the middle, folks who are striving to get in the middle class, when they do well. But I'm asking you about timeframe because, as you well know, as a second term president now, about to begin to your second term, your political capital, even having just won reelection, is limited. So what is your single priority of the second term?
What is the equivalent to healthcare? Well, there are a couple of things that we need to get done. I've said that fixing our broken immigration system is a top priority.